Reservations by Phone: 1 (800) 800-4000
Reservations Online: Dollar - University of Miami Online Portal
Make all reservations using the Dollar/UM CDP# 3024187. Enter this number in the "CDP" field on the Dollar.com homepage. Once you proceed to the Car Selection page, it may not show that insurance is included. However, LDW1 insurance is included in the rate.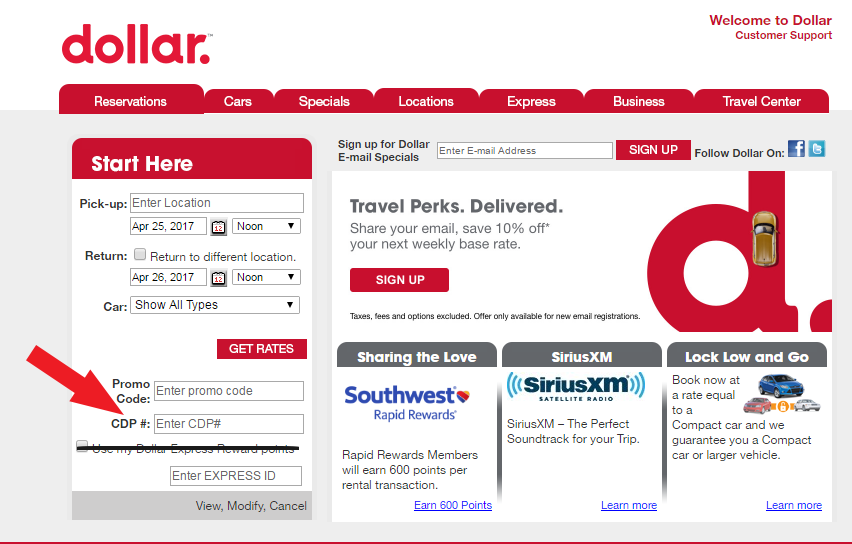 ---
Join the Dollar EXPRESS Rental Program for faster service and FREE days, and earn rental rewards with every trip. If you are already an EXPRESS member, please be sure to add the UM corporate ID# to your profile. If you're not an EXPRESS member, sign-up now: Dollar Express Sign-up/Log in.
Dollar will provide the following DAILY UNLIMITED MILEAGE RATES within the U.S. and Canada when the vehicle is returned to the original renting location: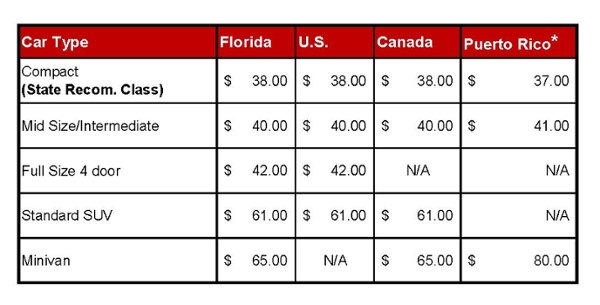 This benefit does not apply to rental transactions at rates other than the corporate rate.


Full Loss Damage Waiver is included when renting at the corporate rate for business travel on all U.S. rentals.


Rates include unlimited mileage in renting and bordering states. However, repeated excessive mileage (mileage which routinely exceeds 3000 miles/km per month) may result in immediate rate or mileage cap changes to the corporate account program. Applies to all Continental USA locations and major Canadian airport locations.


Rates include additional driver fee when renting on company business. Does not apply to leisure rentals.


Rates include underage driver fee for renters 21-24 years of age when renting on company business. Does not apply to leisure rentals. Renter must be 21 years of age, unless otherwise mandated by state law.


Weekly rate is calculated at 6 times the corporate daily rate; monthly rate is four (4) times the weekly rate; extra day rate is equal to daily rate.  Maximum rental period is 30 days.


Limited blackout dates at some locations may apply during peak demand periods.


Puerto Rico Rentals: Rate program only. Above benefits do not apply. Rates may be subject to blackout dates. If required by law, renter must purchase Supplemental Liability Insurance.
---
IMPORTANT NOTE: All rented vehicles must be picked up by a University of Miami employee with a valid University-issued ID. ID must be shown at time of pickup, or rate will not be honored. The individual making the reservation must be the person picking up the vehicle. Spouses, other relatives or persons who are not University employees will not be allowed to pick up a vehicle.
---
RENTAL LIABILITY INSURANCE:
The University is not responsible for car rental liability insurance on personal-use rentals; it is the responsibility of the renter to obtain car rental insurance when renting a vehicle for personal use.
---
REPORTING AN ACCIDENT:
Any employee involved in an accident, while driving a vehicle rented for University business, must immediately report the accident to the rental agency as well as UM Risk Management at (305) 284-3163. The accident must be reported regardless of who is at fault.